Invest in nature to create new opportunities for your business
Planet Earth is at a crossroads. Our current path must change. It's now time to act and put the world on track for a sustainable future. Be part of the action. Join top government officials, CEOs, scientists and civil society leaders at the IUCN World Conservation Congress on 1 – 10 September 2016 in Hawaiʻi.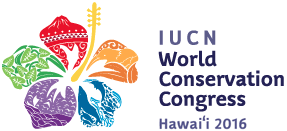 Over 8,000 leaders and decision-makers from government, civil society, indigenous peoples, business, and academia will convene at the IUCN World Conservation Congress on 1 – 10 September, 2016 in Hawaiʻi to shape the global conservation agenda in the aftermath of Paris and the adoption of the Sustainable Development Goals (SDGs).
The World Conservation Congress is the highest decision-making body of the IUCN convening every four years including over 1300 of the world's most influential government and civil society organizations.
WBCSD, as the only international business organization within IUCN membership, will carry the voice of progressive business to this key international platform to demonstrate leadership and take concrete business action to support global conservation efforts.
The Congress presents a unique opportunity to showcase and discuss the implementation of innovative and transformative business solutions to conservation, use and management of natural resources and sustainable socio-economic development.
Why is coming to Hawaiʻi important for your business?
Join the conversation, shape the dialogue and capitalize on new markets for your solutions
Understanding the true value your company gets from nature
Preserving ecosystems and investing in nature-based solutions is a prerequisite for sustaining business operations and ensuring ongoing success for your company in the emerging clean economy.
Business impacts and depends on nature, either directly through its operations or indirectly through global supply chains. However, the services provided by nature, such as freshwater, productive soil and clean air, are declining. This jeopardizes business activity and brings negative socio-economic impacts further affecting companies' bottom line. It is therefore an urgency for companies to better understand their impacts and dependencies on nature, and build informed strategies that take these into account.
The Congress provides a platform to learn from, share and align on best practices on how to sustainably manage these impacts and dependencies. It's an opportunity to mobilize impactful collaboration and partnerships to drive action and reach scale to solve existing environmental challenges.
By addressing environmental issues, your company can access new markets through innovative products and services, reduce costs by being more resource efficient, or reduce exposure to climate-related risks (such as floods or storms) through nature-based solutions. You can also benefit from increased stakeholder engagement and minimize exposure to growing legal and reputational risks.
Positioning your company as a key solution provider
Business is a crucial implementation partner for delivering the SDGs. Your company can make an important contribution to conserving the world's precious water resources and protecting, restoring and promoting sustainable use of ecosystems worldwide. This will help achieve "SDG #14 – Life below water" and "SDG #15 – Life on Land".
Your presence at the IUCN Congress will demonstrate to a very high-level international audience that your company is a key solution provider. It will help amplify the business voice, influence critical decisions and underline the important role of business in providing and implementing solutions.
The Congress will provide you with a platform to showcase your thought leadership and innovative solutions for the conservation of nature and sustainable management of natural resources. Examples of solutions include, among others:
Sylvia Earle
"Nothing else matters if we fail to make peace with nature."
Jonathan Jarvis
Director of the US National Park Service, speaks about the value of parks, the centennial of US national parks, climate change and the IUCN World Conservation Congress 2016.
Bertrand Piccard
talks to us about clean technology, clean energy and a clean future, and asks us to carry that conversation forward to the IUCN World Conservation Congress 2016 in Hawaii.

How to engage?
Come and join us in Hawaiʻi
IUCN and WBCSD envision a world that respects, conserves and restores nature as a basis of human well-being, and benefits from it sustainably. We leverage our respective networks to scale up nature-based solutions to ensure our economies and societies stay within planetary boundaries. We collaborate strategically to create an enabling environment for business to invest and implement nature-based solutions and offer a convening platform for constructive dialogue and concrete action on the ground.
To engage in nature-based business solutions and join us in Hawaiʻi, please contact:
Violaine Berger
Director, Ecosystems & Landscape Management
berger@wbcsd.org
+41 22 839 31 21