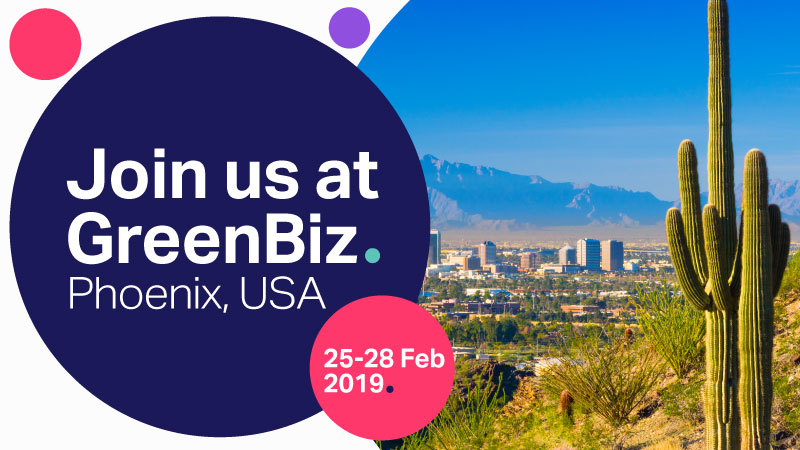 Join us in Phoenix, Arizona on 25-28 February 2019 at the occasion of the GreenBiz 2019 Conference, a key moment for sustainable business leaders in the region. WBCSD will have a broad presence across the week, starting with our annual member meeting in North America on 25 February and followed by a series of engaging sessions at GreenBiz 2019. Stay tuned to this page for further updates and more information. We look forward to welcoming you.
WBCSD Meeting North America
Collaborating to Capture Value for Sustainable Business
Date: 25 February 2019, 13:30 – 19:00
Venue: JW Marriott Desert Ridge Resort & Spa, Wildflower Ballroom, 5350 East Marriott Drive, Phoenix, AZ 85054
On Monday 25 February 2019, the day before the start of GreenBiz 2019, we will hold our annual Member Meeting in North America. This invitation-only event will bring together over 100 company executives and industry experts to learn about the recent business solutions that drive long-term value creation and that improve Environmental, Social and Governance (ESG) practices.
During the event, members and other businesses active in North America will have the opportunity to learn more about WBCSD's global actions to accelerate the pace and scale of systemic transformations. Attendees will also gain a better understanding of how WBCSD member companies collaborate to advance sustainable business solutions that reduce risk and improve the bottom line.
The meeting will conclude with a networking cocktail.
The agenda is available here and you can register through this link.
Registration fees:
WBCSD Members: USD 250
Non-WBCSD Members: USD 350
For any inquiries, please contact events@wbcsd.org.

Copyright © 2020
World Business Council
for Sustainable Development
All rights reserved
Privacy Policy