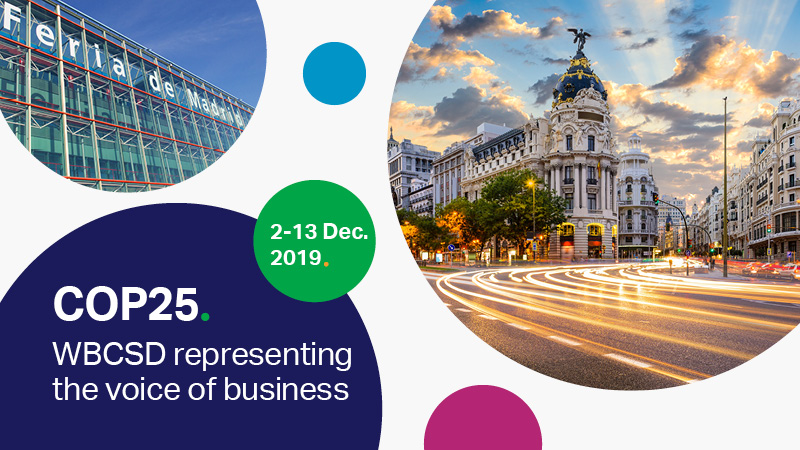 WBCSD at COP 25
2- 13 December 2019, Madrid, Spain
The UN Climate Change Conference COP 25 will take place under the Presidency of the Government of Chile and will be hosted with logistical support from the Government of Spain in Madrid from 2-13 December, 2019. The conference is designed to advance the next crucial steps in the UN climate change process. Following agreement on the implementation guidelines of the Paris Agreement at COP 24 in Poland last year, a key objective is to complete several matters with respect to the full operationalization of the Paris Climate Change Agreement.
COP25 in Madrid provides an important opportunity for the business community to come together and support ambitious climate action. WBCSD is committed to supporting our members to bring this message of ambition at the highest level during COP25.
Our Policy asks for COP25
We need to radically transform all economic systems to reduce global greenhouse (GHG) emissions in line with the 1.5°C target. Businesses around the world are stepping up: aligning their strategies and innovating faster to decarbonize their operations and supply chains. With more ambitious policies, together we can limit global warming to 1.5°C.
COP25 is a critical moment for countries to strengthen their Nationally Determined Contributions (NDCs), Long term decarbonization strategies and domestic policies to accelerate climate action. At this COP we need global commitments that match the science. It's time to raise political will on climate action and accelerate our transition to a zero-carbon future.
Read our business policy asks to see how policymakers can get us there.
WBCSD-led events at COP25
Fast-tracking India's EV transition: Government and corporate action
Time: 11:00 – 13:00
Venue: Indian Pavilion, COP25 Venue, IFEMA, Madrid
WBCSD is supporting a session at the India Pavilion aimed at highlighting actions from the Government of India and businesses in accelerating the adoption of electric vehicles in India.
Food System Dialogue
Time: 10:00 – 11:30
Venue: GCA Round table room, IFEMA, Madrid
Dr. David Nabarro, 2018 World Food Prize laureate, and Curator of the Food System Dialogues, would be delighted for you to contribute your expertise and experience to the global conversation. The COP25 Madrid Food Systems Dialogues will be an opportunity to explore options for food systems transformation in the world context. For more information, please click here.

Registration: Click here to register.
Industry Action Event on Systems Transformation: Key Enablers for 1.5°C Aligned Ambition in Industry
Time: 10:00 – 10:30
Venue: COP25 Venue, IFEMA, Madrid
As lead Focal Point for Industry, WBCSD is leading the Industry Action event under the Marrakech Partnership. This event will convene key industrial players and stakeholders to emphasize the need for leadership in ambition across public, private and civil society actors to drive industrial transformation. Focusing on major industrial sectors, the event will stress the need for key policy enablers that must be implemented by governments to unlock the barriers to achieve the highest level of ambition, with particular focus on financial instruments and carbon pricing.
Business and Industry Day
Time: 13:15– 18:30
Venue: COP25 Venue, IFEMA, Madrid
Led by the International Chamber of Commerce, Business Day will comprise made up of a high-level opening session followed by three consecutive sessions showcasing private sector leadership and action. Participants will discuss ways in which business can drive climate action and contribute to creating loops of climate ambition to support countries as they seek to enhance their Nationally Determined Contributions (NDCs). During Business Day, WBCSD will lead the organization of a discussion session on Business Climate Resilience.
Feeding 3.5 billion: Innovative finance for Climate- Smart Rice
Time: 15:15– 14:15
Venue: GCF and GEF Pavilion, COP25 Venue, IFEMA, Madrid
Together with Earth Security Group and WBCSD, join our COP25 side event to launch a new report on financial innovations for climate-smart rice.
Industry Action Hub Event
Time: 12:00 – 12:45
Venue: Action Hub Amphitheatre, COP25 Venue, IFEMA, Madrid
This Action Hub will showcase businesses – both small and large – that have committed to align their operations with the 1.5°C target and are working toward a Just Transition to a net-zero-carbon economy.
LESC Dinner on the Circular Economy: Driving Systems Transformation to Net-Zero
Time: 18:00 – 22:30
Venue: Casino de Madrid, Calle de Alcalá, 15, 28014 Madrid
This year's LESC Dinner will promote dialogue between business, government and academia on what it means to realize a circular economy to various sectors and what are the key solutions to getting to net zero emissions across all sectors by mid-century.
Register: Click here to register.
Monday 9 and Tuesday 10 December

Systems Transformation for a 1.5 Degree World
Venue: Universidad Politécnica de Madrid, Madrid, Spain
By showcasing successful case studies with collaborative storytelling, this major LESC event at COP25 provides an area alongside COP for collaborative brainstorming, problem-solving, and knowledge sharing for solutions to a 1.5 Degree world. The 2019 LESC will bring together leaders and scientists from businesses, governments, and academia from around the world.
Register: Click here to register
Circular Economy (Packaging and Business Model) Roundtable
Time: 11:30 – 13:00
Venue: COP25 Venue, IFEMA, Madrid
This roundtable, part of the Marrakech Partnership calendar of events at COP25, will see business leaders highlight concrete examples of actions to implement circular economy principles and business models across value chains, and their contribution to achieving the objectives of the Paris Agreement. With a focus on the food and bioeconomy systems, and the crucial role of packaging therein, the event will demonstrate how transformative action in such sectors can have huge impacts to scale up circular solutions in achieving our climate targets.
High-Level Business Climate Action Event
Time: 09:30 – 13:00
Venue: Calle de la Ribera del Loira, 60, Endesa Headquarters, Madrid – 10 min walking distance from the COP venue
At this High-level event, distinguished representatives from the private sector, government and civil society will present their strategies to reach Net-Zero emissions aligned with the 1.5°C objective of the Paris Agreement. They will also discuss about how the energy transformation can contribute to these strategies and how can the different actors work together to ensure a just transition.
Registration: Click here to register.

Copyright © 2020
World Business Council
for Sustainable Development
All rights reserved
Privacy Policy