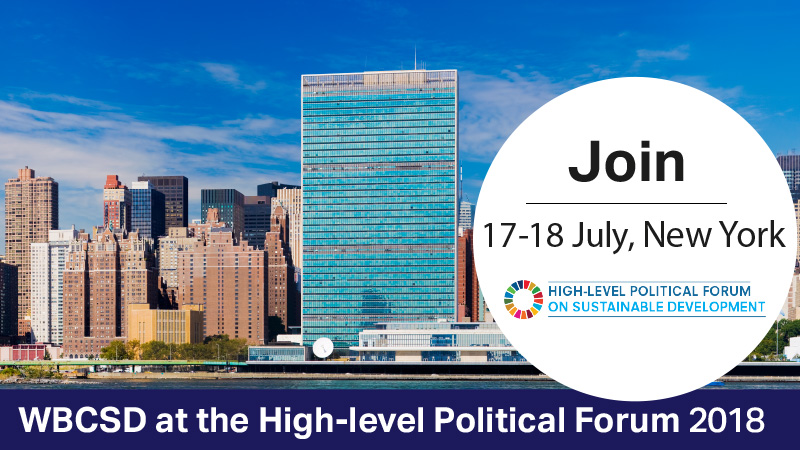 About the High-level Political Forum on Sustainable Development
The High-level Political Forum on Sustainable Development (HLPF) is the United Nations' central platform for annual follow-up and review of the implementation of the Sustainable Development Goals (SDGs). It convenes in New York over the course of two weeks in July.
Under the theme of "Transformation towards sustainable and resilient societies" this year's HLPF will focus on SDG 6: Clean Water and Sanitation, SDG7: Affordable and Clean Energy, SDG11: Sustainable Cities and Communities, SDG12: Responsible Consumption and Production, SDG15: Life on Land, and SDG17: Partnerships for the Goals.
Events co-ordinated by WBCSD
WBCSD is engaged in the organization of a series of business-focussed events during the course of the HLPF which will provide an opportunity to advance the conversation around the role of the private sector in the realization of the SDG agenda.
The SDG Business Forum
17 July 2018, UN Headquarters, New York
WBCSD is co-organizing the third edition of the SDG Business Forum held alongside the Ministerial segment of the UN HLPF. As one of the major business-led events at the UN in 2018, the SDG Business Forum will report on significant achievements and activities undertaken by business in support of the SDGs. An outline of the program can be accessed at this link.
Each year, the Forum provides a unique multi-stakeholder platform to support business action and partnerships to achieve the SDGs — fostering public-private dialogues, catalyzing new alliances, and exploring innovative business solutions to accelerate sustainable development.
The SDG Business Forum was attended by over 1,500 representatives in 2017, with interest predicted to be strong again this year.
To request an invitation for the event, please click on the link below and enter the code: [WBCSD]
Business and the SDGs - Accelerating Transformation
Insights from Chief Sustainability Officers & Sustainability Champions
18 July 2018, UN Headquarters, New York
10:00 am – 13:00 pm
Back to back with the SDG Business Forum, WBCSD and the United Nations Department of Economic and Social Affairs (UNDESA), will host a half-day event which will convene sustainable business leaders to deep-dive into the challenges encountered in integrating and advancing the SDG agenda.
Although business continues to take important steps by designing innovative solutions and creating partnerships in support of this crucial agenda, the clock is ticking. Realizing the ambitions of the SDGs calls for radical acceleration in the pace and scale of uptake of these solutions across key economic systems.
The event will seek to catalyze further action by facilitating a fruitful dialogue and exchange of know-how among sustainability champions for accelerating systems transformation towards a sustainable future.
Details on the agenda of the event are available here. For more information about the event, please contact aujouannet@wbcsd.org

Copyright © 2018
World Business Council for Sustainable Development
All rights reserved
CONTACT
MAISON DE LA PAIX
Chemin Eugène-Rigot, 2B
Case Postale 2075
CH-1211, Geneva 1
Tel: +41 (22) 839 3100
Fax: +41 (22) 839 3131
E-mail: info@wbcsd.org